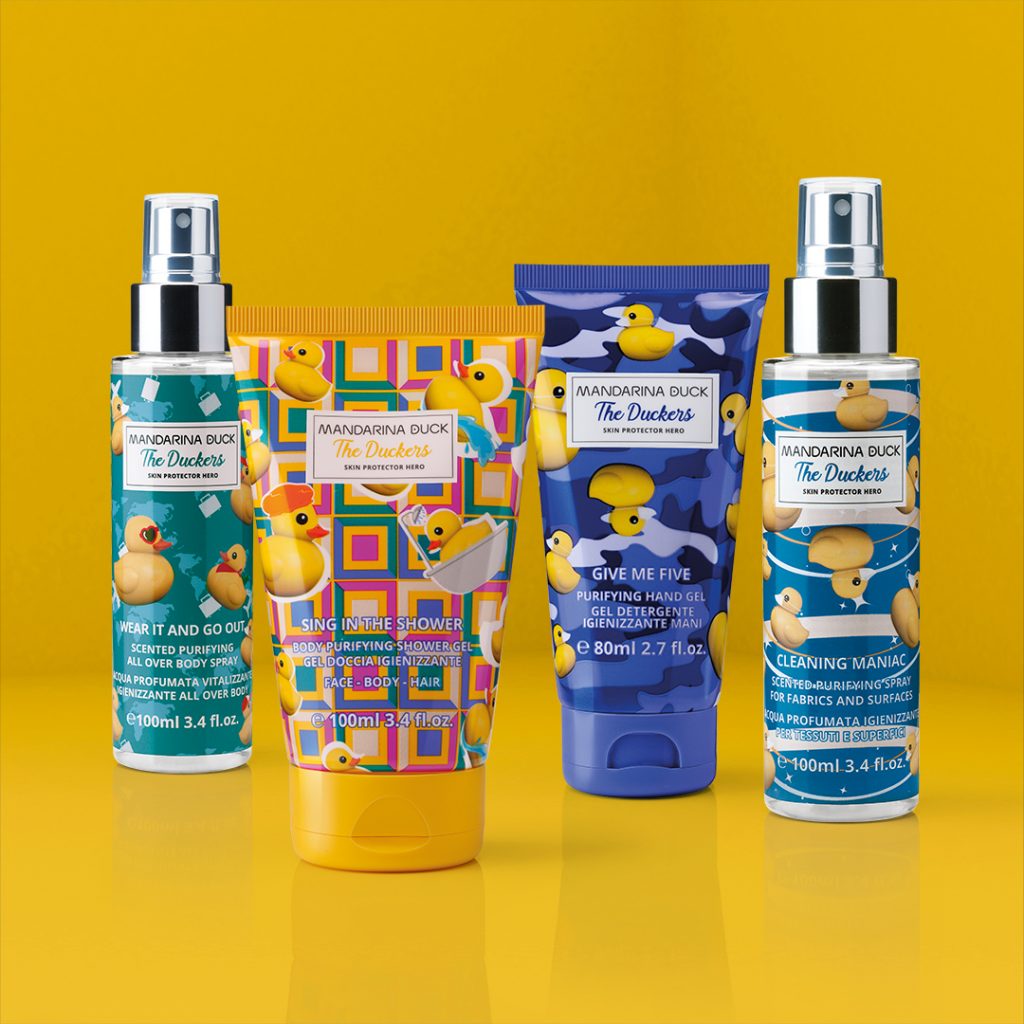 CARE LINE
SKIN PROTECTOR HERO
In response to the new habits and needs of cosmetic routines arisen in this new era of social distancing, we created Skin Protector Hero, a complete cleansing line for hands, hair and body, as well as a purifying spray for fabrics and small surfaces.
Conceived for The Duckers – the globe trotter tribe that has chosen the Mandarina Duck style for both its real and its imaginary trips – the products of this new line are all rigorously unisex, with natural components, biocompatible and presented in practical travel size formats made of recyclable plastic.
Give me five
PURIFYING HAND GEL
80ml
Purifying cosmetic gel, cleans and purifies hands. It absorbs quickly, without rinsing.
It contains 65% alcohol and 98% of natural origin ingredients.
Cleaning maniac
SCENTED PURIFYING SPRAY FOR FABRICS AND SURFACES
100ml
A product that can be sprayed on fabrics or small surfaces.
Its floral marine scent will make every ambient irresistible!
Wear it and go out
SCENTED PURIFYING ALL-OVER BODY SPRAY
100ml
Fragrance that is delicately enriched by glycerin and betaine for a soft and hydrated skin. Panthenol protects and revitalizes hair.
Contains 70% alcohol and 95% of natural origin ingredients.
Sing in the shower
PURIFYING SHOWER GEL FACE – BODY – HAIR
100ml
Cleansing formulation with glycerine and aloe, for a delicate effect ideal for daily use. It helps remove microorganisms.
Contains 97% of natural origin ingredients.
The fragrance
OLFACTIVE FAMILY: FLORAL MARINE
In order to make the new protective rituals more pleasant, Mandarina Duck has thought, for all the products of the Skin Protector Hero line, of a fragrance with a fresh Marine top and Bergamot notes, highlighted by the intriguing Gourmand touch of Figolide™. This new aquatic mix is combined with a floral heart of Iris and Ylang-Ylang that is enveloped by a warm base of Wood and Tonka Bean.